Rental Rates inclusive of Breakfast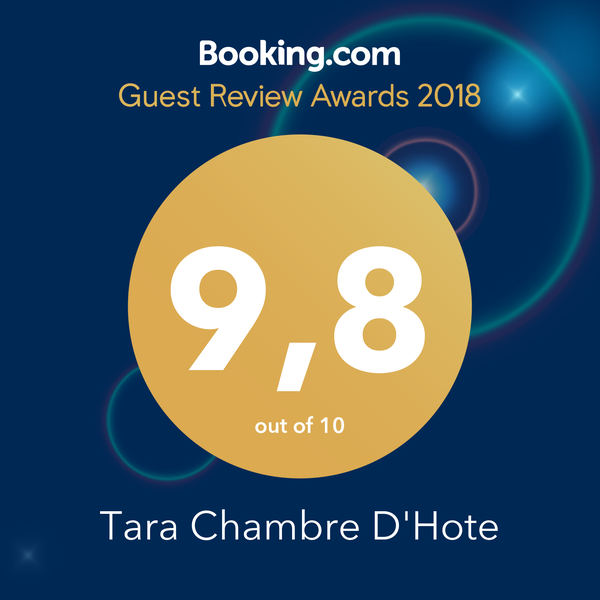 SPECIAL OFFERS AVAILABLE
                                                                         Book Direct for the Best Rate
                                                                        1 Night   90 Euros
                                                                        3 Nights  86 Euros per night 
                                CONTACT DIRECT     E-MAIL  enquiries.tara@gmail.com
                                                                  Tel.   MOBILE : 00 33 780312993 outside France
                                                                                              or  0780312993          in FRANCE
We have a young Swiss Shepherd on the property who is very friendly.
We are sorry we cannot accept pets.
We are flexiable with arrival times after 16.00
We request the room is vacated by 11.00  on the day of departure.
We will send a detailed map with easy step by step instructions to find our property.
We will provide lots of local information on places to visit and places to eat when you arrive.
Tea, Coffee and soft drinks are available during your stay.
Quoted Currency: Euros €
Convert Currency:
Rental rates are per room.
| Description | Week Night | Minimum Stay |
| --- | --- | --- |
| CLICK ON SEARCH BUTTON FOR UP TO DATE RATES | - | 1 Night |
What Guests Say: 
Many Thanks for a perfect stay. Beautiful location  away from noise and traffic yet near to everything.
Breakfast delicious and plenty of choice. Enjoyed our time in the garden and play with Saffy. She is adorable. Hope to come back again.
Best Wishes & Good luck   Dan & Mave Ireland July 17
Nous avons passe une tres agreable moment encotre compagnie. Nous vous remercions pour vos delicates attentions.
Tout nous a satisfait, la maison, la chambre, le jardin sans oublier un magnifique petit dejeuner.
Bonne continuation.  Brigitte et Serge  juillet 2017
Many Thanks for your warm welcome & hospitality.
Congratulations for your beautiful garden offering a large variety of flowers & trees.
Extremely pleasant home full of coseyness and peace.
All the best for 2017 onwards.
Elizabeth & Francis  Belgium Juillet 17 
Merci pour votre bel accueil, la Chambre est magnifique, votre petit déjeuner parfait.
Merci pour ce moment de détente dans votre jardin.
Ne changez rien.
Anne   Juillet 17